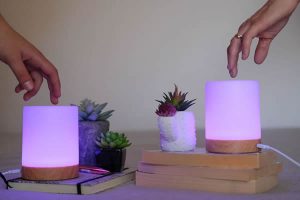 Every relationship takes work. Be it with a spouse, lover, partner, friend or family member. And staying in touch with a loved one can be quite challenging. Especially if you are super busy or aren't keen on connecting via social media or texts. Friendship Lamps can help keep you feeling close.
Your partner or spouse needs assurance of your affection and love. Friends often want to stay in touch too. Your family members feel the need to connect with you ever so often. While it might not be possible for you to make a call every time you think of someone, there is a simpler way to stay in touch. To show the person or people that you are thinking of them.
The Perfect Gift For a Long-Distance Relationship
Friendship Lamps Australia are one of the most unique products available on the market today. It is a wonderful gift and a stylish decorative item as well. They are also the most innovative ways of staying in touch with someone you love. Our friendship lamps are Wi-Fi enabled devices that allow you to stay in touch.
You have the option to buy as pair of lamps. Gift one to someone you care about and keep the other for yourself. You just need to complete the set up and choose a colour. Then the other person would have to do the same. Whenever you touch the lamp, it will light up in the colour that is unique to you. This will tell the person you are thinking of them.
This means you can get in touch with a loved one without actually making a call or sending a text message. If you want to buy friendship lamps, the process is very simple. You can purchase these via our website. They will be delivered to your desired location within 1 to 3 business days.
Why Buy Friendship Lamps?
These lamps are incredibly beautiful. They allow you to stay in contact with loved ones who may be in any location. Whether you want to connect with a person within Australia or somewhere across the seas. Our lamps are the best way to do it. This lamp is compact enough to fit on most end tables, bookshelves or night stands. It is unique enough to be noticed in any room no matter its size.
It's also very light and easy to carry. This means it's the perfect gift for someone traveling overseas. Without having to worry about its weight or size. You can purchase the number of friendship lamps you want to give to the people you love. It's a great gift for your spouse, boyfriend, girlfriend, family member or even a friend.
The Perfect Lamp For Groups Of Friends
Many of our customers purchase multiple friendship lamps for their group of friends that want to keep in touch. When you touch the lamp, it goes through various colours in succession. Each person within the group can be assigned one specific colour. When that person touches their lamp, it would light up in that colour which tells you it's them.
You can then respond by touching your lamp. Then all the devices within the same group will light up in the colour set by you. This truly is one of the most unique and simple ways of telling someone you are thinking of them. There is no texting or calling involved, yet you have a powerful way to say hello to someone you care about.
Don't let your busy life or even distances come in the way of your long-distance relationships. For any information, feel free to Contact Us through this form and we will respond quickly.
(Friendship Lamps Australia is owned by an associate company and had strong Website Planning before it was built)